Rose Pink Paracord Type IV
Inklusive moms, ekskl. fragt
Nuværende behandlingstid: 12 timer.
Alle ordrer er speciallavede. Behandlingstiden afhænger af den samlede mængde ordrer. I øjeblikket er behandlingstiden (køen): cirka 12 timer.
Behandlingstiden justeres dagligt. Haster det? Kontakt os venligst.
Køb 15 for

3,74 kr

pr styk og spar

9%

Køb 30 for

3,36 kr

pr styk og spar

18%

Køb 300 for

3,06 kr

pr styk og spar

26%
We offer a discount up to 25%! - We supply our Paracord in a bundle, custom length spool and standard size spool.
meter
Rose Pink Paracord Type IV
This is how you receive your Paracord:

Fill in the desired number of meters, and we will deliver the Paracord in a bundle or on a custom length spool. The price depends on the amount of meters you order. You'll receive the highest discount (25%) on a standard spool of 300 meters. If you would like this discount, type '300' in the number of meters field.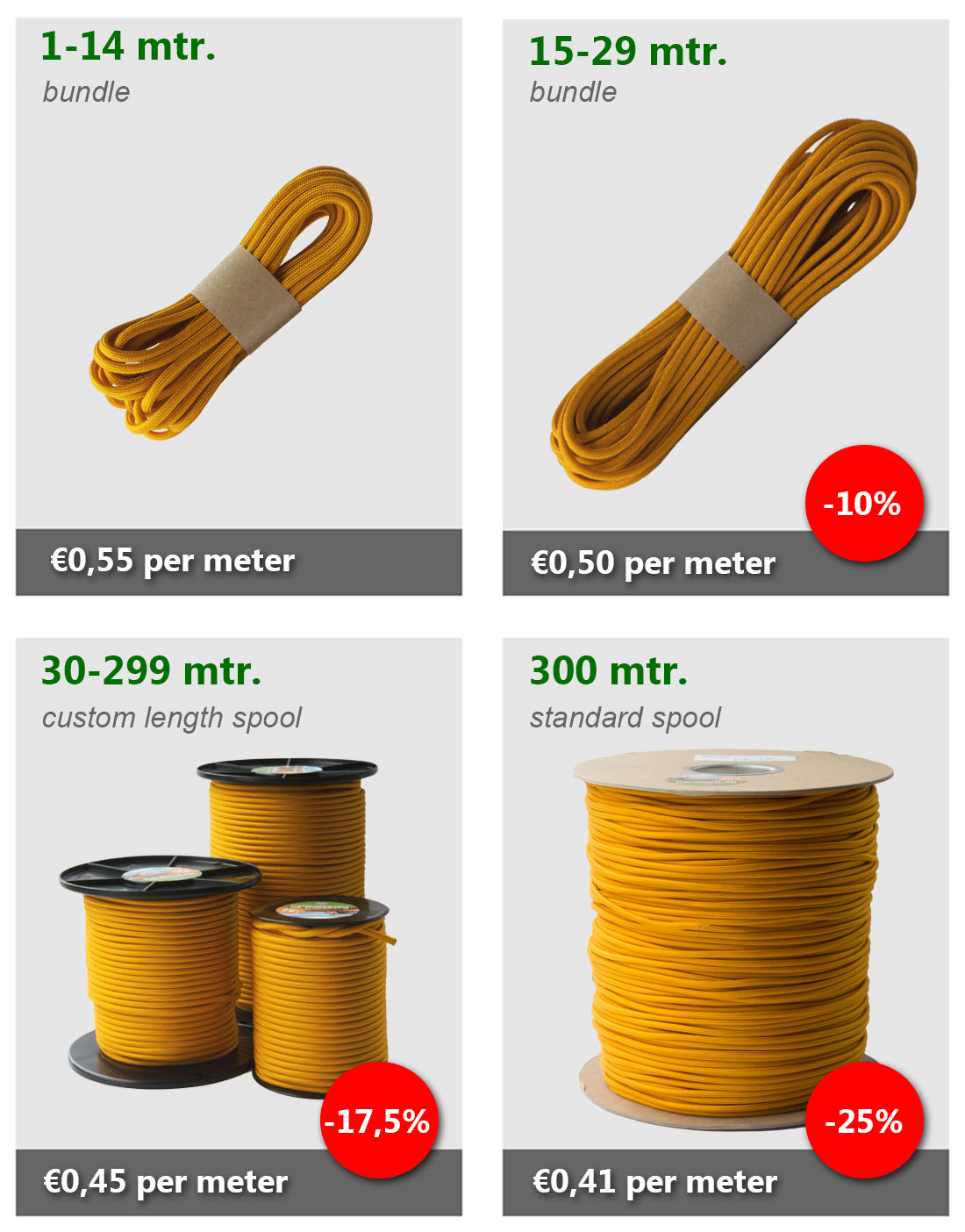 Specifications:
Diameter: ca. 4,2 mm
High Quality Yarns
Rope Sleeve is 32-stands
Core contains 11 core threads
Breaking Force: 750 lbs/kilo (340 kg)
Density Nylon: 1,15 g/cm³
Can shrink 5-10% by wetness
Made in the U.S.A.
Washable at 30 °C (Because of the concentrate of dye some colors are more proon to bleed.)
| | |
| --- | --- |
| Weight: | 9.5 gram |
| Pris pr.: | meter |
| varenummer: | MT010402 |
| Color: | Pink |
| Paracord Type: | Paracord 750 Type IV |
| Pattern Type: | Solid |
| Brydestyrke (kg): | 340 |
| Max Continuous Length: | 300 |