Kiwi Green (GN526) BioThane 'BETA' ® 16 mm - 2.5 mm Per Meter
Inklusive moms, ekskl. fragt
Beta Biothane Kiwi Green (GN526), 16 mm wide, ca. 2.5 mm thick. Perfect for medium dog collars or dog leashes as well as horse halters. Sold by the meter, total amount of meters delivered as one lengt
meter
BioThane 'BETA' ® Kiwi Green 16 mm - 2.5mm (GN526) - Per meter
Biothane Beta 520 Coated Webbing | B10 standard profile
This Kiwi Green Biothane article with a 16 mm width and circa 2.5 mm thickness comes with a breaking strength of circa 280 kg. Perfect for medium & small dog collars or leashes as well as horse halters.

The Biothane Beta 520 Series is the closest thing to leather in the horse halter, dog collar and dog leash marketplace. The Biothane Beta 520 Series has gained the trust of horse halter, dog leash and dog collars makers. The Beta series has a matte appearance and an excellent soft flexness, also in cold conditions.

Biothane can be sold by the meter, the total amount of meters will be delivered as one length with a maximum of 30 meters per spool.
Width
Profile
Thickness
Break Strength
16 mm

B10 Standard

ca. 2.5mm
280 kg

Biothane Beta 520 Specifications:
Color: Kiwi Green (GN526)
Breaking Strength: 280 kg (625lbs)
Width: Ca. 16 mm (5/8" inch)
Thickness: Ca. 2.4-2.7 mm.
Biothane Coating: 520 Beta ®
Profile: B10 Standard
Appearance: Matte, no gloss. Embossed Leather Style
Material: Polyester core and a polymer (PVC) coating
60A Shore Hardness PVC Low Gloss
Biothane article no. B10ST058GN526
45 gram per meter
Sold by the meter, total amount of meters delivered as one length.
Maximum continuous length per spool is 30 mtr.
Biothane BETA 520 Features
Hardness: Soft
Flex: Good - Excellent
Cold Flex: Good - Excellent
Hand Tackiness: Medium
Peel Adhesion: Good
Abrasion Resistance: Fair
UV Resistance: Excellent
Coating Tear Strength: Fair
Weather Resistance: Good - Excellent
Please note!
* All Biothane Beta product photos shown are digital representations and may vary depending on your screen type from actual coating color.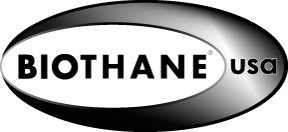 What is BioThane ®?
BioThane ® is the brand name of all coated webbing products made by BioThane Coated Webbing Corp. It's basically a polyester webbing with a TPU or PVC coating that makes it more durable, waterproof, easy to clean and weldable.

Buy BioThane per Meter
Biothone can be ordered by the meter. You will receive the total amount of meters as one length. Please note that the maximum continuous length per spool is 30 mtr.

Does Biothane hurt dogs or horses?
Not any more than leather! As long as you size the end product correctly it should never hurt your animal.

Will Biothane smell if dogs gets wet?
No, BioThane is stinkproof.

How long will Biothane last?
Under normal use, BioThane will long outlast leather and nylon.

Will the color fade?
The opaque colors tend to hold color significantly longer than the fluorescent colors. In general, the deeper the shade of the hue, the longer it will last.

Why is BioThane better than leather?
BioThane ® is more durable, cleanable, stronger and easier to maintain. It is also readily available in different colors.

Is BioThane made in the USA?
Yes, BioThane ® is manufactured in our only plant located in North Ridgeville, Ohio in the USA.

Is 'Beta' BioThane?
YES! Beta ® is a registered trademark owned by BioThane Coated Webbing Corp. Beta® is considered a "coating class" of BioThane ®.