Neon Yellow Paracord Type IV (Last Stock)
Incluyendo impuesto a las ventas, excluyendo envío
Tiempo de procesamiento actual: 12 horas.
Todos los pedidos son personalizados. El tiempo de procesamiento depende de la cantidad total de pedidos. En este momento el tiempo de procesamiento (cola) es de aproximadamente 12 horas.
El tiempo de procesamiento se actualiza diariamente. ¿Es urgente? Contacta con nosotros.
Comprar 15 por

0,50 €

cada uno y ahorra

9

%
Comprar 30 por

0,45 €

cada uno y ahorra

18

%
Comprar 300 por

0,41 €

cada uno y ahorra

25

%
We offer a discount up to 25%! - We supply our Paracord in a bundle, custom length spool and standard size spool.
metro
Neon Yellow Paracord Type IV
This is how you receive your Paracord:

Fill in the desired number of meters, and we will deliver the Paracord in a bundle or on a custom length spool. The price depends on the amount of meters you order. You'll receive the highest discount (25%) on a standard spool of 300 meters. If you would like this discount, type '300' in the number of meters field.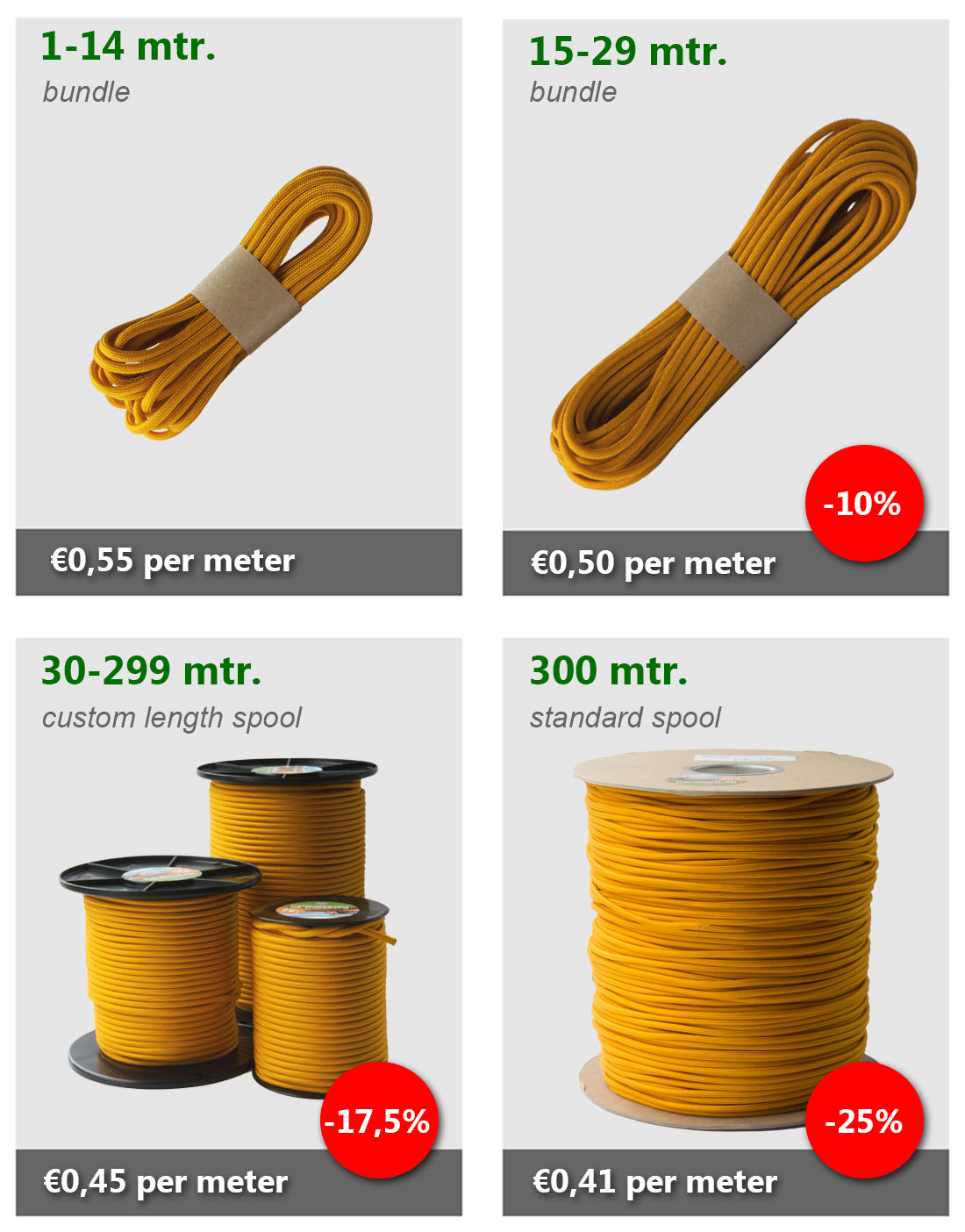 Specifications:
Diameter: ca. 4,2 mm
High Quality Yarns
Rope Sleeve is 32-stands
Core contains 11 core threads
Breaking Force: 750 lbs/kilo (340 kg)
Density Nylon: 1,15 g/cm³
Can shrink 5-10% by wetness
Made in the U.S.A.
Washable at 30 °C (Because of the concentrate of dye some colors are more proon to bleed.)
| | |
| --- | --- |
| Weight: | 9.5 gramo |
| Precio por: | metro |
| Artículo #: | MT010329 |
| Color: | Yellow |
| Paracord Type: | Paracord 750 Type IV |
| Pattern Type: | Solid |
| Tensión de rotura (kg): | 340 |
| Max Continuous Length: | 300 |