Charcoal Grey Paracord Type IV
Compresa l'imposta sulle vendite, esclusa la spedizione
Tutti gli ordini sono fatti su misura. Il tempo di elaborazione dipende dalla quantità totale di ordini. Attualmente il tempo di elaborazione (coda) è: circa 143 ore.
Il tempo di elaborazione viene rettificato giornalmente. Urgente? Ci contatti per favore.
Acquista 30 a

0,50 €

ciascuno e risparmia

9

%
Acquista 300 a

0,45 €

ciascuno e risparmia

18

%
metro
We offer a discount up to 25%! - We supply our Paracord in a bundle, custom length spool and standard size spool.
Charcoal Grey Paracord Type IV
This is how you receive your Paracord:

Fill in the desired number of meters, and we will deliver the Paracord in a bundle or on a custom length spool. The price depends on the amount of meters you order. You'll receive the highest discount (25%) on a standard spool of 300 meters. If you would like this discount, type '300' in the number of meters field.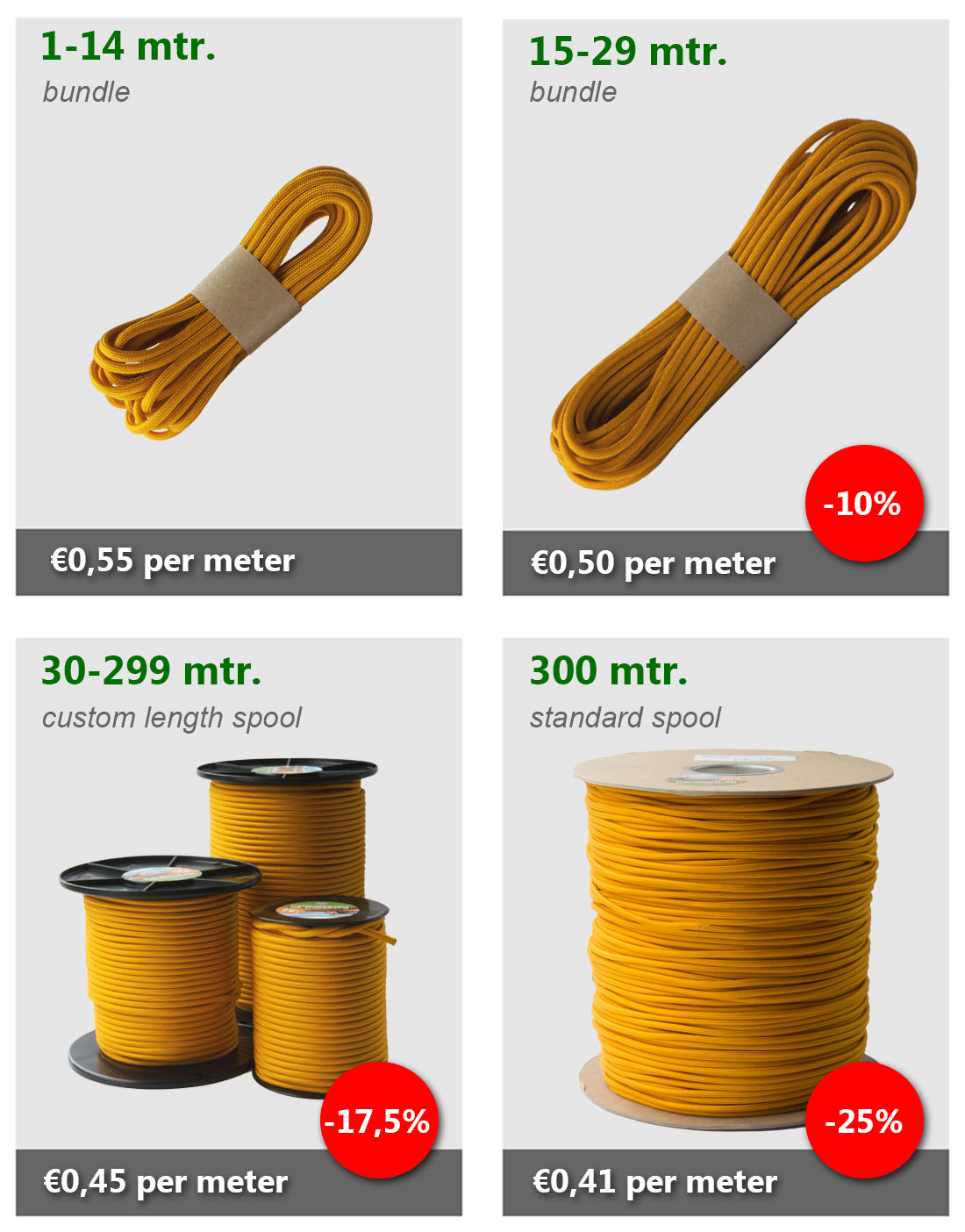 Specifications:
Diameter: ca. 4,2 mm
High Quality Yarns
Rope Sleeve is 32-stands
Core contains 11 core threads
Breaking Force: 750 lbs/kilo (340 kg)
Density Nylon: 1,15 g/cm³
Can shrink 5-10% by wetness
Made in the U.S.A.
Washable at 30 °C (Because of the concentrate of dye some colours are more prone to bleed.)
| | |
| --- | --- |
| Odice articolo: | MT010377 |
| Prezzo per: | metro |
| Forza di rottura (kg): | 340 |
| Peso: | 9.5 grammo |
| Rope Diameter: | 4.2 mm |
| Colore: | Grey |
| Paracord Type: | Paracord 750 Type IV |
| Pattern Type: | Solid |
| Materiale della corda: | Nylon (PA) |
| Number of Strands: | 32 |
| Rope Construction: | Kernmantle |
| Max Continuous Length: | 300 |
Attribuutcode
In deze kolom niets aanpassen!
Een korte beschrijvende tekst van het attribuut
max_continuous_length
The Max Continuous Length is the maximum length at which the rope is delivered in one piece. Longer pieces will be delivered in multiple parts. However, an exception can be made to some products. Contact us to see what we can do for you!
breaking_strength
The breaking strength of a material is the maximum amount of tensile stress that the material can withstand before failure, such as breaking or permanent deformation expressed in kilograms.
color_value_pantone
This Pantone colour is closest to the colour of this product.
color_value_ral
This RAL colour is closest to the colour of this product.
rope_material
The Rope Material is the natural or synthetic fiber that is used to produce this rope.
rope_material_core
The core of this product is a natural or synthetic fiber and is not the same fiber as the sheath around the core.
Dubbi? Ordina un campione!
Vuoi essere ancora più sicuro che questo prodotto sia adatto al tuo progetto? Ordina un campione di questo prodotto. (ca. 10cm)
Fai clic sul pulsante ordina campione qui di seguito per aggiungere un campione al tuo ordine.
Come funziona:
Puoi ordinare 1 campione per prodotto. Sul tuo campionario è presente un codice sconto che indica il valore di questo campione. Questo codice sconto può essere utilizzato solo quando si ordina questo prodotto con una quantità minima di 2 unità (ad esempio metri).
Nota! Il codice sconto è valido per 2 mesi.