Solar Orange Paracord Type IV
Compresa l'imposta sulle vendite, esclusa la spedizione
Tempo di elaborazione corrente: 12 ore.
Tutti gli ordini sono fatti su misura. Il tempo di elaborazione dipende dalla quantità totale di ordini. Attualmente il tempo di elaborazione (coda) è: circa 12 ore.
Il tempo di elaborazione viene rettificato giornalmente. Urgente? Ci contatti per favore.
Acquista 15 a

0,50 €

ciascuno e risparmia

9

%
Acquista 30 a

0,45 €

ciascuno e risparmia

18

%
Acquista 300 a

0,41 €

ciascuno e risparmia

25

%
We offer a discount up to 25%! - We supply our Paracord in a bundle, custom length spool and standard size spool.
metro
Solar Orange Paracord Type IV
This is how you receive your Paracord:

Fill in the desired number of meters, and we will deliver the Paracord in a bundle or on a custom length spool. The price depends on the amount of meters you order. You'll receive the highest discount (25%) on a standard spool of 300 meters. If you would like this discount, type '300' in the number of meters field.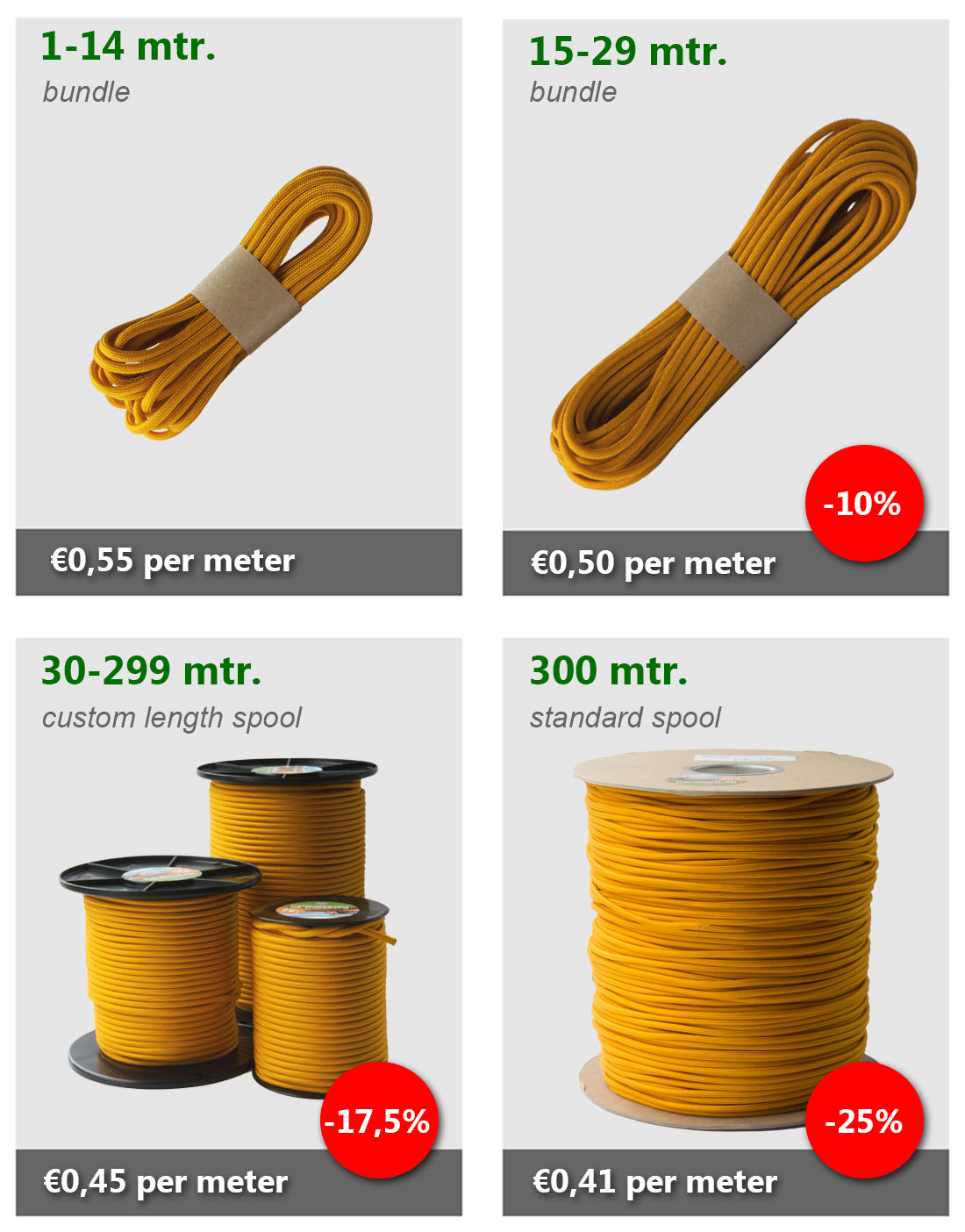 Specifications:
Diameter: ca. 4,2 mm
High Quality Yarns
Rope Sleeve is 32-stands
Core contains 11 core threads
Breaking Force: 750 lbs/kilo (340 kg)
Density Nylon: 1,15 g/cm³
Can shrink 5-10% by wetness
Made in the U.S.A.
Washable at 30 °C (Because of the concentrate of dye some colors are more proon to bleed.)
| | |
| --- | --- |
| Weight: | 9.5 grammo |
| Prezzo per: | metro |
| Odice articolo: | MT010408 |
| Color: | Orange |
| Paracord Type: | Paracord 750 Type IV |
| Pattern Type: | Solid |
| Forza di rottura (kg): | 340 |
| Max Continuous Length: | 300 |